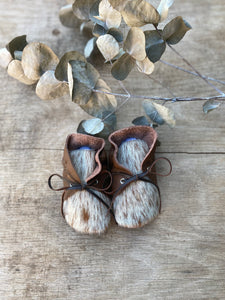 Soft soled genuine leather baby booties finished with our Wattle and Hide brand. 
Baby booties are individually handmade. This photo is the exact pair of shoes. 
When measuring baby's foot please add approx 1 to 1.5cm to allow for socks, growth and wiggle room.
If purchasing for a gift and unsure which size to choose our approximate guide may help you decide.
9cm - newborn
10cm - 3 to 6 mths 
11cm - 6 to 9 mths
12cm  - 9 to 12 mths
13cm - 12 to 18 mths
These booties are handmade from very soft genuine leather and are not designed for "rough" play! 
We do not recommend washing booties, should they become soiled, wipe gently with a very slightly damp cloth and pat dry. 
For safety reasons do not leave baby unattended while wearing booties.